Risk Management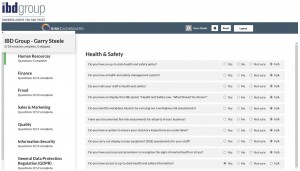 Scorpio Connect and ibd, together with Risk Management Dashboard, can now help you to assess how compliant all your functional business areas are across the business.
Any non-compliance or missing facets in some of your key functional and business areas can result in significant risk to your business.
The key is to understand what the potential areas of risk are, how to fix them, and more importantly… how to prevent them from becoming a risk in the first place.
This means having access to and utilising the right tools that will allow you to assess and analyse all these areas of your business and arrive at the appropriate way forward.
The Risk Management Dashboard tool can empower your organisation with accurate, clearly presented data that is easy to understand, thus allowing you to make the best and most informed decisions that will mitigate your business against potential financial and operational liability.
The Risk Dashboard software makes it easy to identify vulnerabilities, gaps, and opportunities from different viewpoints within your organisation. It is the only software available that also provides recommendations and partners to assist in managing the potential risk threat.
Through the Risk Dashboard we can help your organisation manage and mitigate against any potential business risk, using your own data.
The Risk Dashboard provides a set of quantitative and qualitive indicators of systematic risks within your organisation – regardless of whether you're an SME or a large corporate.

The software:
Identifies solutions and presents selected business partners to work with you to correct and mitigate liability
Uses best in class KPIs to manage risk
Utilises a weighted risk algorithm based on business type and sector
Shows automated and customised alerts to focus on problem areas
The Risk Dashboard presents your information in ways you never thought possible.
For more information on any of the above, please contact us.
---